Welcome to our People Gallery. Meet the artists and artisans who created this historic beauty, and scroll down to see the planners and designers behind its existence.
Ettore Cadorin (1876-1952)
Carved the Great Arch and original "Spirit of the Ocean" Fountain. +
Born into a long line of artists in Venice, Italy, he studied at Académie Royale des Beaux Arts in Venice, and produced several notable works of art in Europe and Australia before coming to the United States. After teaching at Columbia University in New York, he came to Santa Barbara in 1925, and taught at what is now UC Santa Barbara. His best known American work is the bronze statue of Junipero Serra in the National Statuary Hall Collection in the Capitol Building, Washington D.C., one of two statues representing California.
Jacob Chemla (1858-1938)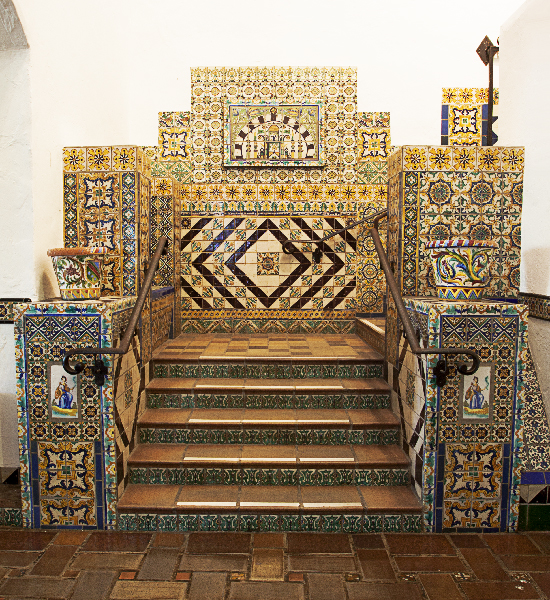 Created the Tunisian wall tiles that line the walls of the Courthouse stairwell and lobbies.+
Jewish ceramic artist, author, journalist and translator in Judeo-Tunisian Arabic. After his death, his sons renamed the business Les fils de J. Chemla (Sons of Jacob Chemla), which operated until 1966. In the 1960s, President of Tunisia Habib Bourguiba contracted the company to install ceramic panels at Carthage Palace.
Daniel Groesbeck (1879-1950)
Painted the 4,200 square feet of murals in four months in 1928. +
He painted with two assistants and was paid $9,000. He was a well-known set designer in the early days of Hollywood, and a favorite of director/producer Cecil B. DeMille. Groesbeck's 1924 painting "The Landing of Cabrillo," which now hangs outside the Mural Room, led to his Mural Room commission.
John B. Smeraldi (1868-1947)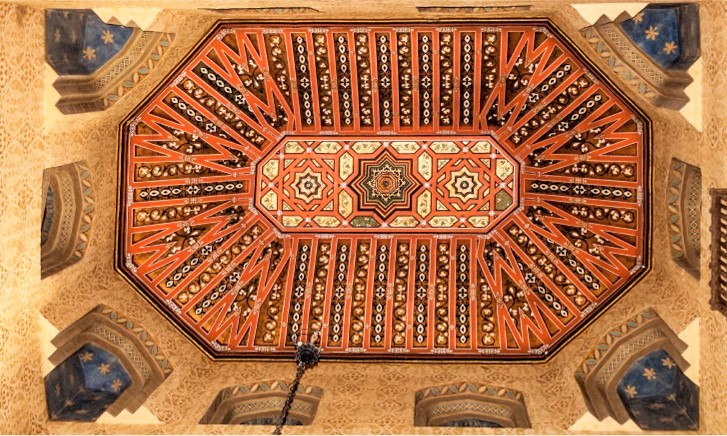 Painted the decorative ceilings, walls and beams throughout the Courthouse. +
One of his wall paintings in the Law Library (shown here behind his image) depicts a 17th century map of California as an island. Born Giovanni Battista Smeraldi in Palermo, Sicily, he apprenticed in Sicily and the Vatican and emigrated in 1889. Other noted works include ceilings at the Biltmore Hotel, Los Angeles and Grand Central Station in New York City.
Theodore van Cina (1865-1940)
Painted the five tapestries on the second floor Figueroa wing and the Fiesta scene near the Lawyers' Entrance. +
Born and trained in art in Holland and having traveled widely in Europe studying medieval art, he worked for a while in Chicago, then from 1924-32 in California, mostly in Hollywood. While in Santa Barbara from 1929-30, he was commissioned by a mortgage company to do a series of historical paintings. These paintings were later donated to the Courthouse.
Albert Yann (1892-1987)
Crafted the copper plate configuration on the 13 feet high x 8 feet wide, double doors of the Hall of Records. +

Born in Budapest, he apprenticed as a metalsmith at age 14 at a prince's palace in Austria. After a name change at Ellis Island, he settled in Los Angeles, where he made every tool he used, and adorned in metal some of the great structures of southern California. In the style of repousse he hammered the plates from the back side. It is unclear if he worked the wrought iron elements of the Courthouse, though this was his stock and trade in the U.S.
Bernhard Hoffmann (1874-1949) and Pearl Chase (1888-1979)
Chair (Hoffmann) and Secretary (Chase) of the committee that drove the movement fostering Santa Barbara's Spanish heritage as design style for the Courthouse after the 1925 quake.
Born in Boston and moved with her family to Santa Barbara in 1900, she graduated from S.B. High School at age 14 and summa cum laude from UC Berkeley. Back in Santa Barbara, her early community efforts concentrated on issues of public health and food quality. She succeeded Hoffmann as chair of the Plans and Planting Committee in 1927, and eventually founded the Santa Barbara Trust for Historic Preservation. She never held public office, but was an influential advocate for the community over her last 60 years of life.
A Massachusetts electrical engineer who came to Santa Barbara in 1919 for his daughter's health care, he was the first chair of the non-governmental "Plans and Planting Committee," which promoted use of Spanish architectural styles. He led the nation's first Architectural Board of Review, established by the City at his suggestion. He helped access private capital for post-quake recovery, including the Community Drafting Room, which provided free architectural services to those willing to rebuild in the Andalusian style.