>
>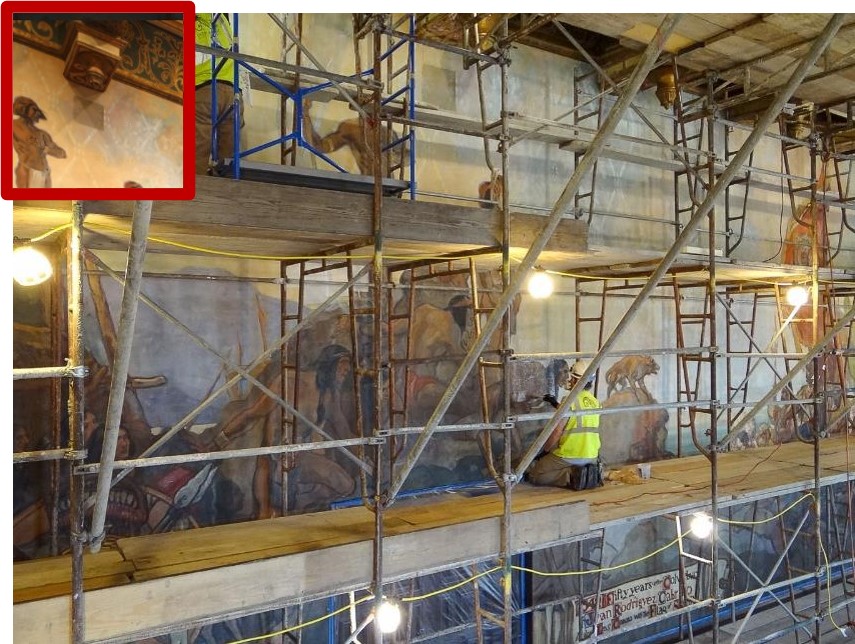 >Smoke damage from an electrical fire in 2010, and from years of tobacco use, is shown in a dark patch left by the art conservators who cleaned and restored the murals at a cost of over $1 million. (Photo: Evergreene Architectural Restoration)
Note the faint diamond pattern on the muslin, which serves as a grid for scaling and positioning objects in large murals, here left unpainted in some areas.
>
>
The Chumash – called the 'Canalino Tribe' on the mural – thrived along California's central coast for over 12,000 years. They built canoes to navigate the sea, traded actively, and mastered the use of local natural resources.
>
In 1542, Juan Rodriguez Cabrillo, the first European to sail up the coast of California, first claimed the territory for the Spanish crown. For many years after Cabrillo's visit there was little Spanish activity here.
>
>
In 1602, Sebastian Vizcaino, a Spanish explorer and mapmaker, sailed the coastline and anchored in the channel on December 4, which was the feast day of Saint Barbara.
>
This wall depicts Santa Barbara's early history, starting with the Chumash, who lived in the Santa Barbara area for 12,000 years before the Spanish arrived. In the center Juan Rodriguez Cabrillo is shown coming ashore in 1542. On the right mapmaker Sebastian Vizcaino is shown arriving in 1602. Vizcaino named one of the offshore islands in honor of Saint Barbara, which later led to the name given to the city, county and channel.